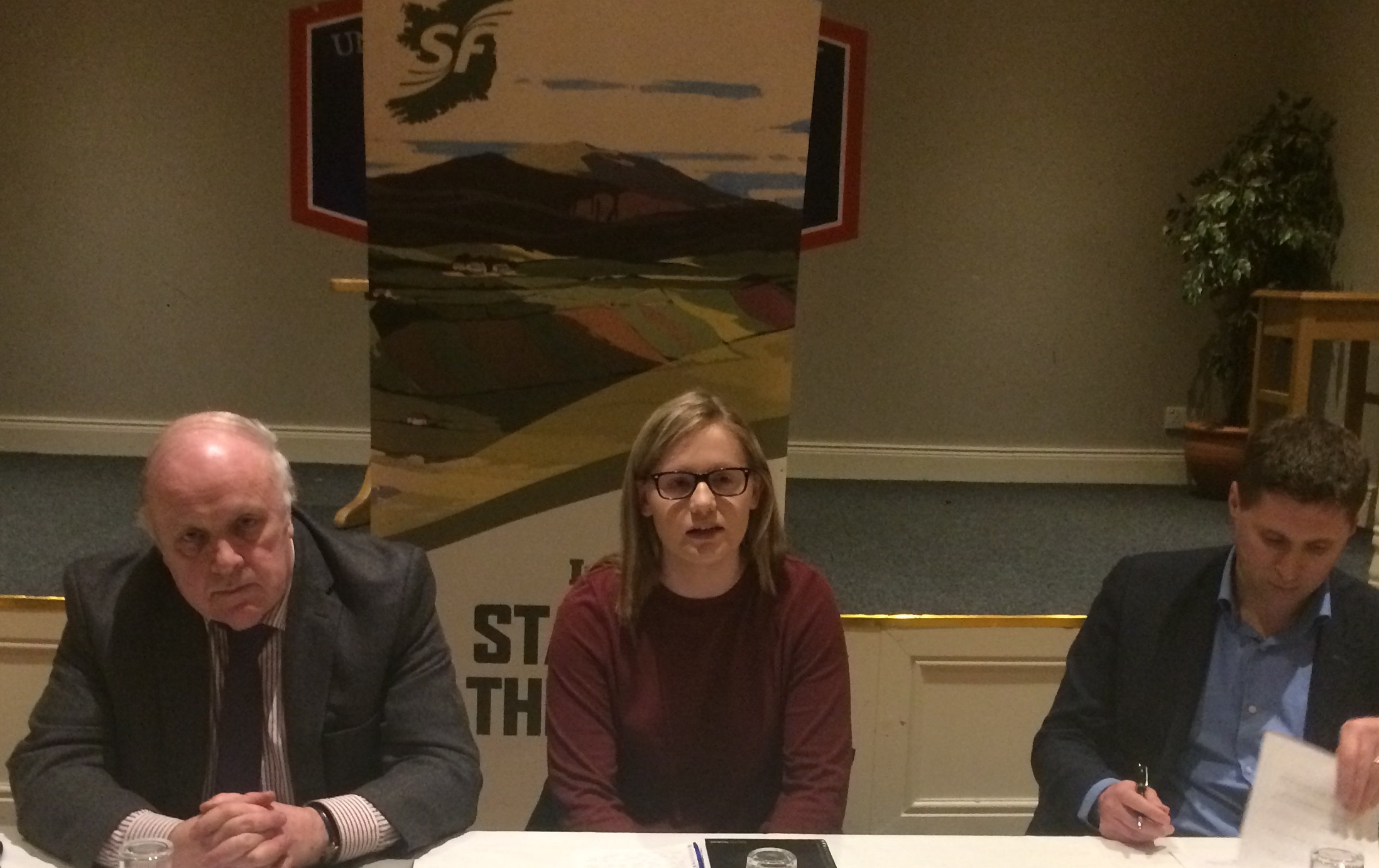 Despite the inclement weather conditions, a significant number of local people turned out for a public meeting in Strokestown's Percy French Hotel on Thursday evening, 15th February which was organised by Sinn Féin.
Those attending heard Midlands North West MEP Matt Carthy say that rural Ireland and those who live there face discrimination from Government policies.
The MEP, who is a member of the European parliuament's Agriculture and Finance Committees said services regarded as rights in urban areas were viewed as charity when provided to or sought by rural communities.
The meeting was also addressed by Sinn Féin's Roscommon/Galway  representative, Claire Kerrane who condemned the actions of local Fine Gael and Fianna Fáil representatives who voted in the Dáil against a Sinn Féin Bill which would have prevented such discrimination against those living in rural Ireland.
Matt Carthy said:
"Rural Ireland and the people who live there face discrimination from Government policies in the provision of health services, broadband and infrastructure including our roads. These are regarded as basic rights in urban areas but as charity when provided to or demanded buy those living in rural Ireland. This discrimination must end and Sinn Féin will ensure that it does.
He said that the Government's National Framework plan appeared to be ignoring the North West region and amounted to little more than doing what Government Departments always intended to do but with added media spin.
"The current Fine Gael Government has effectively abandoned rural Ireland, especially western counties. Rural schools, Garda stations and post offices have been closed at an alarming rate. Meanwhile small and medium business have been starved of credit and neglected by the Government so that many rural towns are simply dying on their feet. Successive governments have made living in rural Ireland more difficult. They have cut rural transport programmes, raised costs for private car users and inflicted cuts on Bus Éireann and Iarnród Éireann. There is now a major threat to 800 more post office branches across the state. This cannot continue.
"Sinn Féin has a vision for rural Ireland as a sustainable place to live and work, where the quality of life is matched by the quality of public services. This includes a policy commitment to keep rural post offices, libraries and Garda stations open and to maintain services that connect people with their local towns."
Carthy said that since his election to the European Parliament, he had been active in relation to issues affecting people living in rural Ireland:
"I have raised at EU level the issue of regional imbalances in Ireland and highlighted the lack of key infrastructure here in the West.
"I have sought to reduce overly burdensome regulations imposed on small and medium businesses, on farmers and on local authorities.
"But the truth is that while we can champion these issues at EU level, we really need a fundamental rethink of Irish Government policy.
"That means that rural based MEPs, TDs and Councillors, from Fianna Fáil and Fine Gael in particular, must join with Sinn Féin in demanding significant investment in rural counties.
"It means thinking big for rural Ireland. There is no reason why many parts of rural Ireland haven't got broadband or can't access international investment or why so many of our young people, even now, continue to emigrate in order to get a job.
"There is no reason other than the fact that Fianna Fáil and Fine Gael Governments have not and will not invest adequately in the infrastructure and services we need.
"Sinn Féin is committed to being a strong voice for the Rural Ireland and West. We believe it is time to recognise and embrace the opportunities that exist here.
"We have put forward key actions and targets that can begin a turnaround in the fortunes of this region. Sinn Féin is clear in our commitment to public services and to local communities. We will stand with communities in opposing the withdrawal of services and ght for a New Deal for the West."
Sinn Féin's Roscommon/Galway representative Claire Kerrane said:
"For Sinn Féin the introduction of Rural Proofing Legislation would underpin a new policy direction towards the West of Ireland.
"Rural Proofing legislation is a key tool to ensure that the interests of people in rural Ireland are catered for in the development and delivery of public services in way that has not been done so far. This is key to the future of the West.
"Last year Sinn Féin introduced a Rural Equality Bill in the Dáil to ensure that all legislation and regulation would be rural- proofed, ending discrimination against rural areas. But this was frustrated by Fine Gael and Fianna Fáil opposition, including local Fianna Fáil representatives. In government Sinn Féin would enact rural proofing legislation."
ENDS
Rural Ireland facing Government discrimination – MEP tells Strokestown meeting