Matt Carthy MEP to host "Stop the Vultures!" public meeting in Drogheda this Friday
Sinn Féin MEP Matt Carthy will host a "Stop the Vultures! Time to Protect Homes" public meeting in the Westcourt Hotel in Drogheda, Co Louth, this Friday 5 April at 8pm.
The Midlands Northwest MEP has been central to the campaign against the EU directive on non-performing loans which he says will strengthen the free rein giving to the banks and vulture funds and will force more families out of their homes. Ahead of the Drogheda event he spoke of the government's lack of action on Ireland's housing crisis.
"Sinn Féin is standing with communities and campaigning for policies that will benefit the Irish people and not the banks and vultures at the local, state and EU level.
"In Brussels we are fighting tooth and nail against a new proposal on mortgage loans, which would allow the banks to throw their customers to the wolves and give further free rein to the debt vultures across the EU.
"Last week the UN special rapporteur on housing issued an absolutely scathing letter reprimanding the Irish government for its policies that have actively encouraged the financialisation of the real estate sector – and which have directly caused the extreme rise in homelessness we have witnessed.
"The unprecedented housing crisis in this state has been caused by a series of public policy failures – a failure to cap rents, a failure to build social housing, and a failure to implement an effective vacant homes strategy.
"At the same time the housing and homelessness crisis has been worsened by the government's policies of inviting in the US vulture funds, and creating a virtually tax-free environment for both the banks and the vultures.
"Instead of regulating international speculators, the government has welcomed in the hedge funds with open arms, which has driven up housing and rental costs and priced an entire generation out of ever owning their own home.
"At every stage in this unfolding disaster, the government has been supported by Fianna Fáil.
"Fine Gael, supported by Fianna Fáil, are actively encouraging this crisis to escalate and we must fight back. We in Sinn Féin are here to stand with the people to protect their homes.
"I encourage the people of county Louth to stand with us on April 5. Come and have your voice heard."
Note to editors:
Speakers on the evening will include Imelda Munster TD and Cllr Joanna Byrne. The event, which takes place in Westcourt Hotel in Drogheda, starts at 8pm on Friday 5 April.
ENDS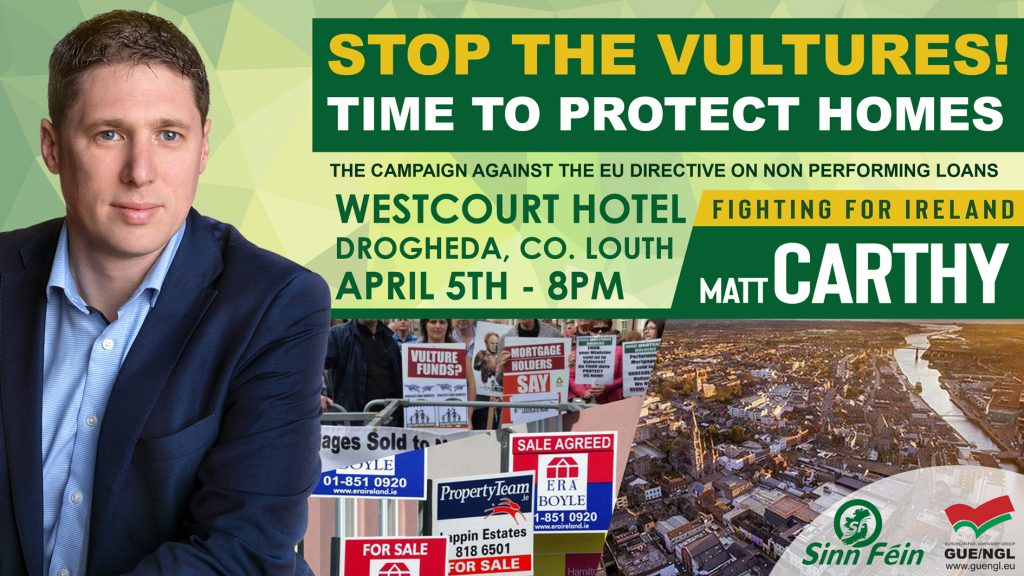 Matt Carthy MEP to host "Stop the Vultures!" public meeting in Drogheda this Friday